Recent
The parents of our students, who are enrolled in classes now, think…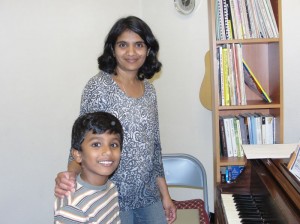 Larysa is a passionate piano teacher. She tries what best works for a child and sticks to that method. We are very impressed with her. She lets the parents participate in lessons  and record the class sessions,  which is a good way of refreshing what the child has learned in  class.
"I never found a teacher like Larysa, who could make you cross your boundaries without making you feel conscious of it"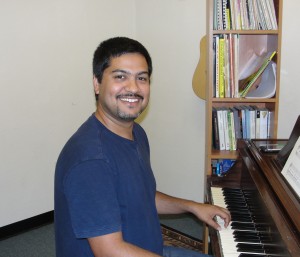 I consider it a fortunate discovery. I was looking for a place that would help me initiate my two year old daughter on Music. I have a profound respect for music and its effect on our emotions. And I wanted my daughter to start early in life and get exposed to the art of music to such a degree that it may trigger the genius in her. (I believe appreciation of music is quite necessary to bring forward one's natural strengths and build the ability to express oneself articulately.) Even the Neuroscientists have accepted to a certain degree that Music can stimulate human brain in such a way that it can trigger what is commonly known as the "Flow", which is found to be that essential component associated with Genius. So with this knowledge, I set out on the search of a school or more particularly an instructor who could inspire and invoke the passion in my daughter (and quite frankly in me too) to master the art of music. I found this website of trio-school and coincidentally met with Larysa the same day outside the Sunnyvale Public Library. I agreed to meet her (without letting her know that when I do meet her I would be fully equipped with my skepticism) and that there was no way I would let anyone influence my opinion by a glib talk. When I did meet Larysa at her school, along with my wife and daughter, she didn't ask me for my goals and ambitions and how I wanted my daughter to become a musician of the cadre of nothing less than Bach, Mozart or Tchaikovsky. What she did instead was sat on the bench, turned to her Piano and asked the three of us to repeat what she sang. And I must tell you, even though I pretended to be unimpressed by it, my skepticism had gone out the window (there are no windows, by the way, in her classroom, so please don't be surprised, it was a figure of speech). I must warn you that Larysa is no business person so she won't explain to you the terms of agreement with the patience of a Sales person trying to sell their product to you. She will ask you for the dues in a non-subtle and direct manner and she doesn't believe that since you are paying for the class so you can define the rules. She is very straightforward person and doesn't mince her words. And I respect that quality in her. I don't want to set a wrong expectations here Larysa has devoted more time on the classes (mind you, not merely the time proportional to her fee, but rather much more than that) to help me overcome some of my challenges. So, even though it may appear that she is very particular about certain things, you can take my word she will give you a lot more than you would have expected. She is one of those teachers that I searched for all my young life when I wanted to pick up a talent. I never found a teacher like Larysa, who could make you cross your boundaries without making you feel conscious of it. And not to mention she is an even better teacher for your kids because she has an ocean of patience with kids and their tantrums. I am still learning and I am confident that if a person like me who has a below average hand-eye coordination and less than 2 hours a week to practice can learn to play "Syncopated" pieces just because of the way Larysa teaches, then kids and adults that are dedicated can learn much more from her. In fact I would urge everyone to go take the introductory lesson (it's not free) but it is worth the dough you spend on it and definitely costs way less than your average family trip to P.F. Changs or Movie Theater. Good luck and hope this has helped you make up your mind.
Rishik Dhar
"I was amazed at Ms.Larysa Yost's depth of knowledge in music , interest and seriousness."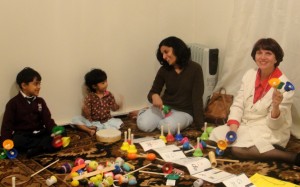 My son attended Trio school of music for piano at the age of 5. I was amazed at Ms.Larysa Yost's depth of knowledge in music , interest and seriousness she put in to teach the little ones. She was very particular that kids should learn music at a very yound age and she put all sorts of efforts to keep them interested like playing the notes using bells, jumping on the keys of  a musical mat, etc. My  daughter, who was 2 at that time, was very impressed, and she too showed  a lot of interest in learning music as she watched my son learn. Unfortunately we couldnt continue this year as Ms. Larysa moved to a different location, which is very far from us, and we really miss her lessons. I highly recommend her classes to students  of different ages.
Sheeba George
"Larysa's passion to see her students grow and succeed makes her school a unique place for our child." 
We had a deep desire to expose our child to music, especially the piano. As if in reply to that Larysa came into my child's life. She is an amazing teacher – kind yet firm with children, aware of their capabilities and alwaysencouraging them to do better. Her skills as a piano teacher are exceptional but in addition to that, her passion to see her students grow, appreciate *great* music, and succeed makes her school a unique place for our child.As a result my daughter has responded well; she is excited about playing the piano, loves music, and looks forward to her lessons. We whole-heartedly recommend Larysa and her Trio school to other sincere parents who want their kids to learn music.
Aswath Mohan
"Ever since Pranav and Prabha enrolled in piano class, our quality of life has gone up several notches."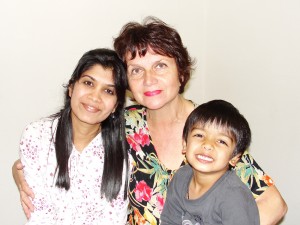 How many times in life do you come across a teacher whose selfless pursuit for perfection and uninhibited passion for music influences an entire family to learn music? Don't be deceived by this unassuming soft-spoken music teacher. Her furor for the instrument and art will inspire you to take on this art form. Under Larysa's able tutorship my 3-year-old son played for a group of elderly people in Sunnyvale. This was Pranav's first solo performance, and the credit for making this happen goes to Larysa's unflinching pursuit for excellence and artistic mastery. Her single-minded resolve to ensure that her students learn music the right way clearly shines through in her day-to-day communications. The attention to the nuanced details (may it be musical notes, the posture or even the piano to buy) reinforces her devotion to this profession. We are proud and honored to be a part of this community of upcoming young musicians. Ever since Pranav and Prabha (Yes, my wife is now a student too) enrolled in Larysa's class, our quality of life has gone up several notches. We spend a lot of time sitting around the piano and enjoying the art form. They say that music has no barriers; maybe I should enroll too… Thank you Larysa for taking Pranav under your wings.
 Prabha Seshan
" Larysa Yost put my daughter at ease at the very beginning"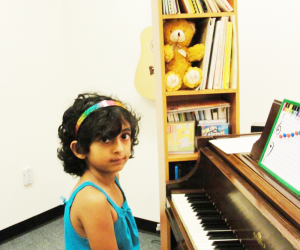 Ms. Yost is a great piano teacher and her passion for music reflects in her teaching.  I am very happy I decided to send my daughter to Ms. Yost on the recommendation of a friend.  Ms. Yost put my daughter at ease at the very beginning and made learning  fun and easy by using bells and color coded keys. She is a very warm and friendly person.
Gradually, Friday afternoons was something my daughter eagerly looked forward to every week.  I liked that Ms. Yost  took extra effort to make sure parents  participated and recorded the lessons and emailed us with video recordings.  She spent time after class to review the lesson and did not charge extra fees for that. Using the recordings helped my daughter review and practice the lessons.  I would definitely recommend  Ms. Yost as a piano teacher.
Johanna  Pushpam
"Various opportunities for mutual help between families and the school " 
My daughter started to learn piano at Trio school in February 2012. I've been always actively present at her lessons. Although my main task is to record educational videos, which my daughter uses at home, I've been also learning a lot, and I consider myself a student, who's been studying and is new to any music forms together with my child, who is enrolled in weekly 45-minute -long lessons. At Trio-School You Don't Just Study Music but Feel It and Learn How to Internalize It! Every small nuance that you make will be permitted if it is musically correct and rest assured that it will be caught by Larysa Yost's ever alert ear and eyes (I mean it) if it is not appropriate, be it keys not pressed with the right fingers or with the a wrong weight on the keys, or the character of the piece. You will not only be pressing keys mechanically to the metronome beats but rather make music with the right body language. It feels great when you see your child internalizing the music! If the music is about softness, it should come out that way. If the music is about Passion, your whole body reflects that music, and that will exude through the finger on the keys, at right time with right pressure on the keys.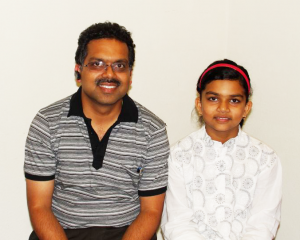 The Mantra is to do it right (except that it can be slow) from the beginning. My daughter and I are so fond of our lessons, that we sometimes invite my wife and son to observe those lessons, and they also feel happy. Larysa works hard and with passion herself and encourages the students to focus and overcome. Thanks to her 40 years of teaching experience, she understands when the student can be loaded with hard tasks and complete them with pride. Honestly, my wife and I couldn't expect that the progress of our daughter would be made so fast. It is exciting to see her practice 90 minutes a day, everyday. There are various opportunities for mutual help between families and the school, which results in free valuable classes for the students. I started to earn extra lessons for my daughter soon after she had got enrolled in classes by working on the school website and the DVD, in which the students' recitals demonstrate how those very young children grow as musicians. In the month of July, I earned three extra classes. It certainly feels well, as I can see how beneficial it is for my daughter to consult the teacher twice a week. I would strongly recommend this school and our teacher, Larysa Yost, to those who consider music education to be one of the best achievements one can make in life.
Ravi Shekhar
"My Son Willingly Practices Every Day"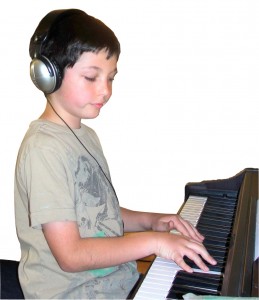 "Larysa Yost is a brilliant music teacher with remarkable personality and charisma. She makes every music lesson an adventure, she immerses you and your child in a wonderful world of art and awakens this delightful feeling of creativity that many of us lose being too busy with the commitments and obligations of our everyday lives. She will bring up color associations to help you remember the keys and will tell you that you can play with two hands on your first or second lesson (and you will!). She is a truly inspiring and unique person. All that said, Larysa is not a teacher for everyone. If you want a low-profile, minimal parental involvement music lessons for your children, when you just bring them to the class and pick them up, you might want to find another teacher. With Larysa, you will be asked to get involved in lessons (and you might find yourself playing together with your child!), you will receive many e-mails (mostly with music pieces attached to them and needed explanations), you will be encouraged to make videos and participate in multiple recitals. The structure of the lessons and the style of communication will be changing, but this comes with the creativity. I have seen children making miraculous progress in her class and loving every minute of it. My son willingly practices every day (and remembering my own experience learning piano for several years, it is not quite usual and largely depends on the repertoire chosen by a teacher). I can also see how all the parental involvement might seem overwhelming – but I found that it is really worth it! All in all, I feel fortunate that we found Larysa and that my son has this exceptional opportunity to learn in a truly creative environment."
Noymi Y.
"One Can Study Piano and the Age of Three!"
We met Larysa in front of sunnyvale library and it was such a transforming experience for us as a family. My son Ashwin was just 3 year old and was interested in music. Larysa decided to teach him despite his age. When we started the classes,  my wife and Ashwin experienced a very friendly and family like relationship with Larysa. We used the songs as a great way to bond as a family. Larysa was generous to provide pianos, bells, and give additional classes as necessary. Larysa's personal attention to various aspects of learning, age suitable modifications of her methods were very helpful.We have taken a break for the time being  but are sure to go back in the near future.
Anand V.
"Overall Quality of Learning" 
"Larysa Yost has been a wonderful teacher for my 3 and a 1/2 year old son and myself. She teaches music for all ages but is unique for us, because we could not find a teacher who would teach small children. Her mom-and-me (or any parent) classes are a fantastic idea and it has helped me discover and enjoy piano music as an adult without any prior experience! Apart from the 45 min class, she communicates a lot over e-mail. So, its value for money, through and through. She emphasizes on overall quality of learning and not just in rote learning of the notes.
Anusha V
"This Well-Rounded Approach to Music"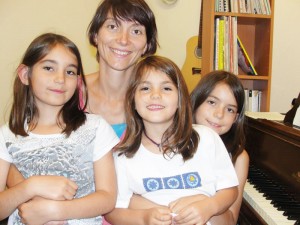 "My three daughters have been learning guitar and piano at the Slavic School for over 6 months now. The teachers know how to adapt to each of my kids' personalities. I'm very satisfied with their well-rounded approach to music. It's more than just guitar or piano lessons, but it's really about opening their minds to the whole world of music. In particular, they really enjoy the singing while they play their instruments."
Christelle, Mother of 3 students
"How the Russian Music School Found Us Away from Home"
" I am a mother of two Russian children, a six-year-old daughter and a two- year-old son, and I believe that both of them will play piano well pretty soon.

In Russia, I studied accordion for five years. I've been blessed to get music education at a state music school, where the standards are high, but I always felt like something was missing. It was my playing popular songs and the ear-training done for the sake of performing without using sheet music. It's well-known that the traditional European school of music, including the Russian school, is heavily focused on raising future professional musicians, not music lovers, the people who have a good taste for music and who feel like playing musical instruments and learning about composers and their pieces without planning to become professional musicians. I hoped to find a Russian teacher in U.S., who wouldn't be rigid and only focused on teaching classical music by using method books, such as Alfred's ones, as well as working hard on scales and etudes to develop the technique, but is rather open to teaching "the music for the Soul", as Russians say. Although I wouldn't mind my daughter's taking exams for the Certificate of Merit, which the teachers of this school can lead her to, I want the girl to first of all love music, to feel comfortable working on music pieces, and to enjoy practicing. I want her to have a good bond with the teacher, and I am so happy that I have found this school (I just wish I found it earlier), that comes under different names but still is the Slavic school in Sunnyvale and Peninsula. At our lessons, where I am always present, together with my little son, who loves those lessons and most likely will enroll in his own soon, the teaching of piano is combined with teaching solfege, music theory, voice and sometimes even some elements of dance to the beginners in order to help them get into the depth of musical pieces. Our teacher leads her students and their parents to using their highest potential, and this is what our family greatly appreciates. We are really proud that the Russian music school found us away from home, and that here our children can learn at their individual pace, without unneeded pressure and fear. They love the teacher, and they feel that she loves them.Our daughter has started with popular songs for the youngest children, playing them with both hands, as the harmonies she used were just letter names above the melody line. (If you know, such songs are called "fake"). After a couple of recitals, in which she has participated as soloist and a member of an ensemble, she started to read music in both treble and bass clefs, and now ( after seven months of study), she focuses on new pieces of classical music and also plays popular Russian and American songs for children. I believe this is a very wise way to bring an interested child to the stage, where she is ready to be challenged. If I had such experiences in my childhood, I would certainly become more proficient in music. I know that Russian and not only Russian parents, who also studied music in their childhood, will understand me and, hopefully, enroll their children in classes at Slavic school in Sunnyvale.
Olga L, Medical Doctor
"I Can Solfege any Piece My Son Plays!"
My son started to take piano classes at School of Music, Dance and Languages in December 2010. From his first lesson, he and I knew that everything was going to be very serious. The first piece my son learned at his first lesson was a well-known "Gypsy", which is sometimes published as "Two Guitars". He played with both hands—the melody and harmonies– after one hour of learning! He did it because he loved it.I've become enrolled in his study very naturally, and I know each note my son plays. I can solfege/sing note names when he plays. Honestly, in the beginning, with the four-month baby daughter on my hands, I couldn't believe I would be of help. I am!This is the way how teaching is provided at this school: The teachers, who teach piano and guitar, believe in the students' high potential and challenge them by assigning serious pieces of classical and pop music pieces while working completely hands-on. One parent is present at the lessons to observe and to audio/video record them. It is really very helpful for students to have their lessons sound at home!All the students participate in the recitals, and the recitals are always videographed, and we make a collection of DVDs to share with our relatives and to see the progress of our children ourselves.I could never expect that in several months, my son would be able to perform for 30 minutes. He went farther: He started to practice harder in order to participate in the recitals as a member of a team/ensemble, and he feels that this is a greater responsibility than just learning for himself. As a regular child, who is sometimes more attracted to computer games than to polishing difficult passages on the piano, he needs to be encouraged and explained why it is so important to have music in his life, how music helps him develop the tolerance and persistence for his whole life while letting him enjoy the most beautiful pieces. If he isn't up to the teacher's expectations, a frank talk between them the two leads him to making good decisions and working harder. Definitely, our children are NOT over praised at this school, and they like it.I'm happy to tell you that, besides learning how to play, he learns a great deal of music theory and even harmony, and he is able to recognize and analyze chord progressions. He understands how to adapt a piece in order to make it more complex and interesting, or easier to play, and I believe this is the best achievement he could make at the age of seven. He's been preparing to perform on stage with the pieces, which are in a program of the third grade of the Russian music school. They are complex but beautiful, and I hope that my son will stretch up to play them in a professional way!If you are looking for the school, where well-educated piano and guitar teachers work from their heart, I would advice you try this school in Sunnyvale downtown!Also, keep in mind that a new Dance Program is going to run here, and it'll start with pre-ballet for 2-4 year-olds. I can't wait until my daughter, who is not a baby anymore, will get enrolled!
Chitra, Computer science specialist
"What I find most appealing  is Larysa's powerful and effective teaching style"
"I've been Larysa Yost's student since 2006, when I was 29 years of age. In my childhood, I had learnt the violin for 10 years and had developed very good ear for music. I was greatly interested in learning the piano and spent weeks researching for the best teacher on Craigslist and many other places. After having met many, some from Julliard and some of my friends' own teachers, I found Larysa to be the right choice. A sincere and dedicated teacher, she was professional, warm and friendly from our every first interaction and knew how to work with me at my own pace from the get-go. I saw immediately that she was not only excellent at teaching, but she was also the right GUIDE for someone like me. What I find most appealing, even to this day, is her powerful and effective teaching style. She believes in hands-on teaching and gets students to play the piano right away with the pieces they'd enjoy the most – no wasting time on redundant theory and verbal lessons. In my case, she knew how to keep me going with the right choice of pieces. I got started on playing full songs within just 4-5 hours of working with her (NOTE: I had never played the piano before!). I made remarkable progress quickly and found a natural rhythm in learning. I applaud Larysa for her sense of quickly assessing students' ability to learn and for guiding them to do exceptionally well.What I really like about Larysa is that she is committed 110% i.e. Every interaction with her proved to me that she went above and beyond the call of duty to make the learning experience exhilarating. You know, sometimes, one just gets lost when trying to find one's individuality in music. If I wasn't ready or prepared or had not practiced a particular piece, Larysa would still patiently work with me and would even teach me brand new pieces to help me get 'over the bump' in my learning path. Larysa is amazing in that way: she demonstrates that learning new things sometimes just unclutters the mind and releases creative energy. She decided to teach me Beethoven's Moonlight Sonata within a year of my study and made me believe, every step of the way, that I could make it. She always pushed me to do better, even with extremely difficult pieces by Rachmaninoff and Bach or with two-part (polyphonic) pieces by Handel. Those pieces, which were complicated in the beginning, have now become my favorite ones.During lessons, I never feel like I am being instructed or tutored. Instead, Larysa treats me in a way she would treat a family member, and we share a great connection. We get the feeling of discovering great music together, given our mutual admiration for it. No matter how many times Larysa plays it herself or teaches it to her students, she distinguishes herself in the way she approaches each piece of music. Through her brilliance in teaching, she helped me realize that playing the piano is not about having quick fingers or knowing fancy pieces, but about expressing oneself creatively – through pictures, stories and art. I now cherish the aspect of 'living in the moment' while playing: this, in itself, has made every effort worthwhile and precious. I now play pieces that my pianist friends consider very difficult, and I do so pretty well.Larysa needed to travel outside the US for many months and, though she counseled me to find another teacher, I didn't find anyone who could work with me in the same manner and shared my deepest love for music. It was clear to me that such a bond between a teacher and student is unique and special and not easily replaceable. I was elated when she returned and welcomed me back to resume my music lessons. Though I had stopped learning music for a considerable amount of time when she was away, I could still easily play my favorite Russian songs and popular ancient waltzes by heart; she had given me the gift to enjoy the beauty of music in its truest form. Now that Larysa is back, I'm beginning to resume my lessons with her. Even the long drive from Marin County to the Peninsula seems a trifle to pay for the benefit of being her student.If you have ever thought about the beauty of playing the piano and are looking for somebody to help you find and realize that passion, look no further!With more than 30 years of experience in teaching and with the most appealing way to make it worth your every while, Larysa is truly one of a kind and the best".
Mukund
[btn_arrow_yellow url="https://trio-school.com/testimonials/from-the-past/" target="_self" position="left"] From The Past [/btn_arrow_yellow]